About Us
Golden Swan Chinese Takeaway is a Chinese takeaway in Swansea. Why don't you try our 7-up or Lemongrass Spare Ribs (Dry)?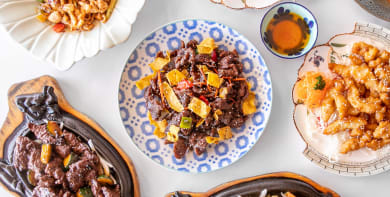 Reviews
576 reviews
Kim
"Great meal as always."
22/01/2021
proberts
"Very tasty and good size portions. The spring roll was full to bursting. Will definitely recommend"
22/01/2021
Lewis
"Fancy giving me free food?"
15/01/2021
Alison
"Food was fantastic. Curry sauce had a bit of a kick but will definitely order again"
14/01/2021
Menu
Roast Pork Bean Sprouts (Chinese Style)
£5.80
Pork with Cashew Nuts in Yellow Bean Sauce
£5.80
Pork with Green Pepper & Black Bean Sauce
Hot
£5.80
Pork with Green Pepper & Chilli
£5.80
Pork with Mange-Tout in Garlic Sauce
£5.80
Mushroom Foo Yung
Vegetarian
£5.00
Plain Foo Yung
Vegetarian
£4.80
Mixed Vegetables Soup
Vegetarian
£2.90
Spicy Hot & Sour Soup
Hot
£3.50
Bean Curd & Sweetcorn Soup
Vegetarian
£2.90
Crab Meat & Sweetcorn Soup
£2.90
Vegetarian Set Meal E For 2 Persons
- Mange-tout in garlic sauce with bean sprouts
- Bamboo shoots & water chestnuts with cashew nuts
- Vegetarian crispy spring rolls (4)
- Deep fried mushroom in spicy salt & chilli (Spicy)
- Bean curd with green pepper & black bean sauce (H)
- Pineapple fried rice
Vegetarian
£22.80
Set Meal A For 1 Person
- Beef with green pepper & black bean sauce (Hot)
- Sweet & sour chicken balls (6)
- Egg fried rice
- Poppadom
£10.80
Set Meal B For 2 Persons
- Beef with mushrooms
- Chicken with green pepper in black bean sauce (Hot)
- Sweet & sour chicken balls (10)
- Vegetarian crispy spring rolls (4)
- BBQ spare ribs in sauce (4)
- Yung chow fried rice
£22.80
Set Meal C For 3 Persons
- Crispy aromatic duck
- Barbecued spare ribs with sauce
- Beef with peking style
- Chicken with oyster sauce
- Vegetarian crispy spring rolls (6)
- Yung chow fried rice
- Yung chow chow mein
£32.80
Set Meal D For 4 Persons
- Crispy aromatic duck
- Barbecue spare ribs with sauce
- Deep fried samosas
- Vegetarian crispy spring rolls (8)
- King prawn with cashew nuts in yellow bean sauce
- Beef with Chinese mushrooms in oyster sauce
- Sweet & sour pork (Hong Kong style)
- Mixed vegetables
- Yung chow fried rice (2)
£38.80
Roast Pork with Mixed Vegetables
£5.80
Mixed Vegetables
Vegetarian
£4.00
Mixed Vegetables with Black Bean Sauce
Hot
Vegetarian
£4.00
Mange-Tout in Garlic Sauce with Bean Sprouts
Vegetarian
£4.50
Mushroom in Gravy
Vegetarian
£4.00
Stir Fried Bamboo Shoots & Water Chestnuts
Vegetarian
£4.00
Stir Fried Bean Sprouts
Vegetarian
£4.00
Mapo Tofu (Minced Pork)
Hot
£5.80
Chicken with Mixed Vegetables
£5.80
Bean Curd with Bamboo Shoots & Chinese Mushrooms
Vegetarian
£4.80
Bean Curd with Green Pepper & Black Bean Sauce
Hot
Vegetarian
£4.80
Bean Curd with Green Pepper & Chilli
Vegetarian
£4.80
Bean Curd with Mixed Vegetables
Vegetarian
£4.80
Beef with Mixed Vegetables
£5.80
King Prawn with Mixed Vegetables
£6.30
BBQ Chicken Steak with Bean Sprouts & Noodle
£6.50
BBQ Chicken Steak with Mixed Vegetables
£6.50
BBQ Chicken Steak with Mushroom
£6.50
BBQ Roast Pork & Chicken with Bean Sprouts
£6.50
Duck with Bamboo Shoots & Chinese Mushroom
£6.30
Duck with Bamboo Shoots & Water Chestnuts
£6.30
Duck with Ginger & Spring Onion
£6.30
Duck with Green Pepper & Black Bean Sauce
Hot
£6.30
Duck with Mange-Tout in Garlic Sauce
£6.30
Roast Duck Bean Sprouts (Chinese Style)
£6.30
Kung Po Chicken in Chilli
£5.80
Roast Chicken Bean Sprouts (Chinese Style)
£5.80
Chicken with Onion in Black Peppercorn Sauce
£5.80
Chicken with Oyster Sauce
£5.80
Chicken with Satay Sauce
Hot
£5.80
Chicken with Peking Style
£5.80
Chicken with Ginger & Spring Onions
£5.80
Chicken with Green Pepper & Black Bean Sauce
Hot
£5.80
Chicken with Green Pepper & Chilli
£5.80
Chicken with Mange-Tout in Garlic Sauce
£5.80
Chicken with Bamboo Shoots & Water Chestnuts
£5.80
Chicken with Cashew Nuts in Yellow Bean Sauce
£5.80
Chicken with Chinese Mushroom in Oyster Sauce
£5.80
King Prawn with Mushrooms
£6.30
King Prawn with Oyster Sauce
£6.30
King Prawn with Pineapple
£6.30
King Prawn with Satay Sauce
Hot
£6.30
King Prawn with Bamboo Shoots & Chinese Mushrooms
£6.30
King Prawn with Bamboo Shoots & Water Chestnuts
£6.30
King Prawn with Bean Sprouts
£6.30
King Prawn with Cashew Nuts in Yellow Bean Sauce
£6.30
King Prawn with Peking Style
£6.30
King Prawn with Ginger & Spring Onion
£6.30
King Prawn with Green Pepper & Black Bean Sauce
Hot
£6.30
King Prawn with Green Pepper & Chilli
£6.30
King Prawn with Mange-Tout in Garlic Sauce
£6.30
Kung Po King Prawn in Chilli
£6.30
Beef with Onion in Black Peppercorn Sauce
£5.80
Beef with Satay Sauce
Hot
£5.80
Beef with Bamboo Shoots & Water Chestnuts
£5.80
Beef with Cashewnuts in Yellow Bean Sauce
£5.80
Beef with Chinese Mushrooms in Oyster Sauce
£5.80
Beef with Ginger & Spring Onion
£5.80
Beef with Green Pepper & Black Bean Sauce
Hot
£5.80
Beef with Green Pepper & Chilli
£5.80
Beef with Mange-Tout in Garlic Sauce
£5.80
Lamb with Cashew Nuts in Yellow Bean Sauce
£6.30
Lamb with Ginger & Spring Onions
£6.30
Lamb with Green Pepper & Black Bean Sauce
Hot
£6.30
Lamb with Onion in Black Peppercorn Sauce
£6.30
Lamb with Satay Sauce
Hot
£6.30
Salt & Chilli Pepper Chips
Hot
£3.50
Chicken with Crispy Noodle
Chicken cooked in oyster sauce with mixed vegetables with crispy noodle base
£6.00
Bean Sprouts Chow Mein
Vegetarian
£3.80
Beef with Crispy Noodle
Beef cooked in oyster sauce with mixed vegetables with crispy noodle base
£6.00
House Special Chow Mein (BBQ Sauce)
£6.20
House Special with Crispy Noodle - Hong Kong Style
Mixed meat cooked in oyster sauce with mixed vegetables with crispy noodle base
£6.30
King Prawn Chow Mein (Dry)
£6.30
King Prawn with Crispy Noodle
King prawn cooked in oyster sauce with mixed vegetables with crispy noodle base
£6.30
Duck with Crispy Noodle
Duck cooked in oyster sauce with mixed vegetables with crispy noodle base
£6.30
Mushroom Chow Mein (Dry)
Vegetarian
£5.00
Roast Pork Chow Mein (Dry)
£5.80
Singapore Chow Mein (Dry)
Hot
£6.00
Singapore Fried Vermicelli
Hot
£6.00
Vegetable Chow Mein
Vegetarian
£5.00
Yung Chow Chow Mein (Dry)
£5.90
Sweet & Sour Sauce w/ Fried Rice (Hong Kong Style) Chicken
£5.80
Sweet & Sour Sauce w/ Fried Rice (Hong Kong Style) Pork
£5.80
Satay Sauce with Fried Rice Beef
£5.80
Satay Sauce with Fried Rice Chicken
£5.80
Mushroom with Fried Rice Beef
£5.80
Mushroom with Fried Rice Chicken
£5.80
Duck Curry with Fried Rice
Hot
£6.30
Curry with Fried Rice Beef
Hot
£5.80
Curry with Fried Rice Chicken
Hot
£5.80
Duck & Satay Sauce with Fried Rice
£6.50
Crispy Shredded Beef - With Salt & Chilli Chips & Fried Rice
Hot
£6.50
Green Pepper in Black Bean Sauce with Fried Rice Beef
Hot
£5.80
Green Pepper in Black Bean Sauce with Fried Rice Chicken
Hot
£5.80
King Prawn Curry with Fried Rice
Hot
£6.30
King Prawn & Satay Sauce with Fried Rice
£6.50
House Special Curry - With Salt & Chilli Chips & Fried Rice
Hot
£6.50
House Special Curry with Fried Rice
Hot
£6.30
Beef Curry - With Salt & Chilli Chips & Fried Rice
Hot
£6.50
Chicken Curry - With Salt & Chilli Chips & Fried Rice
Hot
£6.50
Chips, Fried Rice with Sauce
£4.80
Chips, Fried Rice, Chicken Balls (4) with Sauce
£6.30
Special with Ginger & Spring Onions
£6.30
Special with Green Pepper & Black Bean Sauce
Hot
£6.30
Special with Green Pepper & Chilli
£6.30
Special with Oyster Sauce
£6.30
Special with Satay Sauce
Hot
£6.30
Special with Szechuan Style
£6.30
Mixed Vegetable Fried Udon
Vegetarian
£6.30
Chicken & Pineapple Fried Rice
£5.80
House Special Fried Rice (BBQ Sauce)
£6.20
House Special Fried Rice (Mixed Meat) - Hong Kong Style
Cooked in oyster sauce with mixed vegetables with rice base
£6.30
Egg Fried Rice Large
Vegetarian
£3.50
Egg Fried Rice Small
Vegetarian
£2.80
Pineapple Fried Rice
Vegetarian
£5.00
Mushroom Fried Rice
Vegetarian
£5.00
Plain Boiled Rice Large
Vegetarian
£3.00
Plain Boiled Rice Small
Vegetarian
£2.50
Vegetable Fried Rice
Vegetarian
£5.00
Sweet & Sour Bean Curd
Vegetarian
£5.00
Sweet & Sour Chicken (Hong Kong Style)
£5.80
Sweet & Sour Chicken Balls (10)
£6.00
Sweet & Sour King Prawn (Hong Kong Style)
£6.30
Sweet & Sour King Prawn Balls (10)
£6.30
Sweet & Sour Mixed Vegetable
Vegetarian
£5.00
Sweet & Sour Pork (Hong Kong Style)
£5.80
House Special Sweet & Sour (Hong Kong Style)
£6.30
Gourmet Mixed Hors D'oeuvres (For 2)
Peking spare ribs, chicken skewers, spring rolls, crispy seaweed, sesame prawn on toast with sweet & sour sauce
£9.80
Crispy Shredded Beef with Carrot in Chilli
Hot
£6.20
Crispy Shredded Chicken with Carrot in Chilli
Hot
£6.20
Crispy Shredded Smoked Chicken
Hot
£6.20
Crispy Squid in Spicy Salt & Chilli
£6.30
Deep Fried Chicken Wings in Salt & Chilli
£5.00
Deep Fried Chicken Wings Peking Style
£5.00
Deep Fried King Prawn in Spicy Salt & Chilli
£6.30
Deep Fried Mussel in Spicy Salt & Chilli
£6.30
Deep Fried Chicken Wings in Barbecue Sauce
£5.00
Crispy Shredded Honey Chicken
£6.20
Deep Fried Chicken Wings in Sweet & Sour Sauce
£5.00
Crispy Aromatic Duck Half
Served with pancakes, cucumber, spring onion & hoisin sauce
£16.80
Crispy Aromatic Duck Quarter
Served with pancakes, cucumber, spring onion & hoisin sauce
£8.80
Satay King Prawn on Skewers (4)
Contain nuts
£6.30
Squid with Green Pepper & Black Bean Sauce
Hot
£6.30
Vegetarian Crispy Spring Rolls (6)
Minimum size
Vegetarian
£3.20
Satay Chicken on Skewers (4)
Contain nuts
£6.00
Salt & Chilli Pepper Bean Curd
£5.50
Salt & Chilli Pepper Chicken
£6.20
Mussels with Green Pepper & Black Bean Sauce
Hot
£6.30
Mussels with Satay Sauce
Hot
£6.30
Deep Fried Mushroom in Spicy Salt & Chilli
£4.50
Crispy Shredded Honey Beef
£6.30
Crispy Shredded Smoked Beef
£6.30
House Special in Spicy Salt & Chilli
Spare Ribs, Chicken Wings, King Prawn, Chicken Balls and Chips
£8.80
Honey Spare Ribs with Sauce
£6.30
Deep Fried Spare Ribs in Spicy Salt & Chilli
£6.30
Deep Fried Barbecued Spare Ribs (Dry)
£6.30
Barbecued Spare Ribs in Sauce
£6.30
Peking Spare Ribs with Sauce
£6.30
Spare Ribs with Gravy Sauce
£6.30
Mixed Vegetables Curry
Vegetarian
£6.00
Mushroom Curry
Vegetarian
£6.00
Contact Us
Find Us
28 Alexandra Road, Swansea, SA15DG
We deliver to
SA1, SA2, SA3, SA5, SA6, SA7